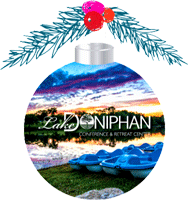 Lake Doniphan Conference & Retreat Center Matching Gift Challenge
Hello all,
Here it is, Christmas eve 2020.
As always, I sit and contemplate the events of the year.
As I do, this year, more than in years past, I find myself acutely aware of how much I have fallen short of the pleadings of the gospel message. Of how much I have wanted this year to be over, to look to a new year where perhaps we can find ourselves to begin again, to find the Christ in those we meet. To look for the opportunities to build each other up, to really look with the eyes of love. And then to realize, how many times have I had that chance, and blown it.